Pandell Receives Esri's ArcGIS SaaS Adoption Award for Exceptional Achievement in Evolving Customers to ArcGIS Using SaaS
Pandell, a 2019 Esri Cornerstone Partner and Esri Partner Network (EPN) Gold Partner, received an Esri Partner Network ArcGIS SaaS Adoption Award at the 2023 Esri Partner Conference (EPC) held in Palm Springs CA, March 4–6, 2023.
Twenty-seven of Esri's 2,800 global EPN partners were honoured for outstanding achievement in a variety of categories. The ArcGIS SaaS Adoption Award recognizes Pandell's success in developing innovative ways to solve complex problems using ArcGIS tools, and for demonstrating exceptional work in advancing geographic information system (GIS) technology.
Pandell's Land and GIS Suite delivers seamless integration between its land acquisition and right-of-way management systems, Pandell Projects and Pandell LandWorks; and Esri's ArcGIS® Enterprise and ArcGIS Platform products. Pandell software users can view land acquisition and operational data on interactive, dynamic maps displayed with layers of environmental and infrastructure spatial data. This offers multi-faceted, real-time visual intelligence that empowers land and GIS teams to make more informed decisions while maintaining accuracy, consistency, and data integrity across the enterprise.
Pandell is now a three-time recipient of an Esri Partner of the Year Award and is the first partner to offer a SaaS hosted GIS and land rights management solution. Collaborating with Esri for more than two decades, Pandell has earned its position as the leading market provider of integrated ArcGIS system ready land solutions to the energy industry. Today 500+ energy developers and operators across the U.S., Canada, Australia, U.K., and Europe, rely on Pandell SaaS solutions for managing land acquisitions, lease obligations, and payments for utilities, pipelines, renewables, and non-renewable energy projects.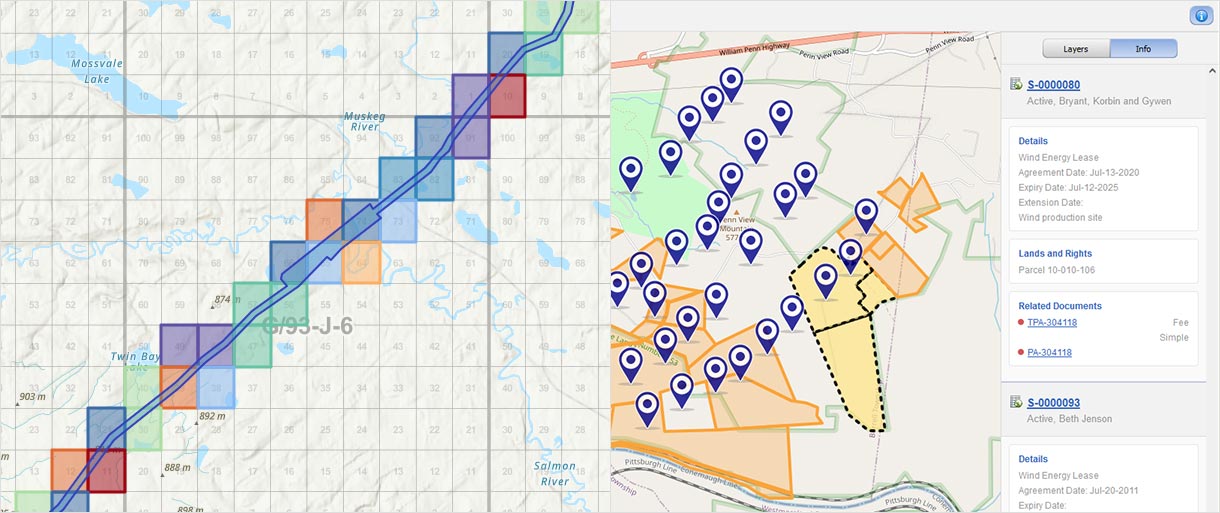 Click to enlarge
Benefits to Utilities
Pandell's gas and electric utility customers include Xcel Energy, Southern California Gas Company, Tucson Electric Power, ALLETE, Grid United, Texas New Mexico Power, and the National Gas Company of Trinidad and Tobago. With ArcGIS technology integrated into their Pandell land software, utility companies can view land assets in the order of an existing or proposed line, track the status of multiple concurrent linear projects, and manage intricate lease obligations and provisions.
Benefits to Pipelines
Pandell's pipeline customers include ONEOK, Valero, NuStar, ATCO, Gibson, and TransCanada. They use Pandell's land and GIS software to automate labor intensive tasks such as realigning existing area polygons to new land or parcel grid versions for improved business efficiency. Processes can be further streamlined by automatically mapping land polygons from linear rights-of-way.
Benefits to Renewable Energy
Leaders in the renewable energy sector including Pattern, BP Wind, EDP, EDF, Repsol, TransAlta, and Duke Energy, use Pandell's software to stay on top of managing their property and project information. By leveraging embedded ArcGIS technology in their Pandell software, land teams can create symbolized business specific views of lease data which can be used to collaborate with the GIS team on projects. Parcel and ownership data can be quickly loaded, while project mapping tools help to easily identify the status of wind farms and solar arrays.
"Esri congratulates Pandell on their 2023 EPC ArcGIS SaaS adoption award in recognition of their innovative work leveraging ArcGIS software," said Robert Laudati, Director of Global Partners and Alliances at Esri. "We are proud to partner with Pandell to foster the use of Esri technology in support of our mutual customers."
---
About Esri
Esri, the global market leader in geographic information system (GIS) software, location intelligence, and mapping, helps customers unlock the full potential of data to improve operational and business results. Founded in 1969 in Redlands, California, USA, Esri software is deployed in hundreds of thousands of organizations globally, including Fortune 500 companies, government agencies, nonprofit institutions, and universities. Esri has regional offices, international distributors, and partners providing local support in over 100 countries on six continents. With its pioneering commitment to geospatial technology and analytics, Esri engineers the most innovative solutions that leverage a geographic approach to solving some of the world's most complex problems by placing them in the crucial context of location. Visit us at esri.com.
---
About Pandell
Pandell is an industry leader in delivering Software-as-a-Service (SaaS) solutions to 500+ energy companies in Canada, the USA, and abroad. Our customers range from startups to major enterprises across energy sectors including oil & gas, pipelines, utilities, mining, and renewable energy. Our cloud-hosted product suite helps finance, land, and field operations run their business more effectively; while our enterprise division builds and manages large-scale web portal applications that facilitate work across organizations. Combining the strength of our industry experience, Lithium™ technology, and practical software subscription model, we are Crafting the Future of Energy Software.